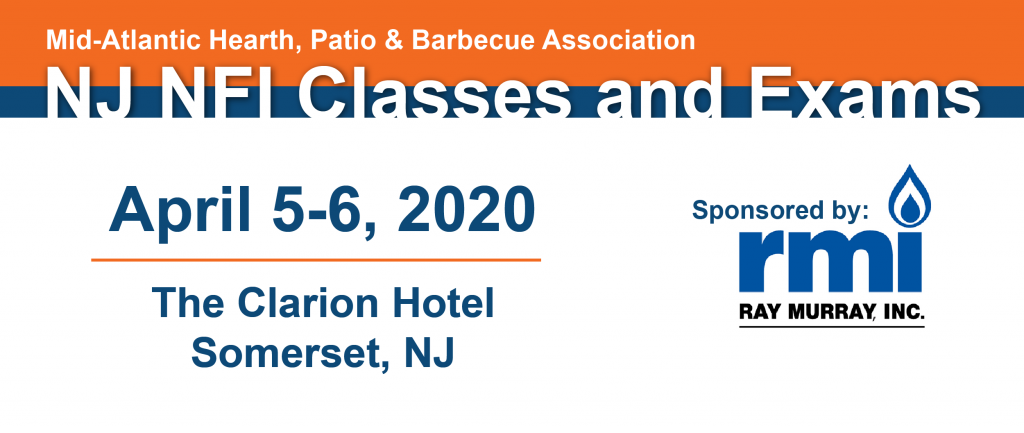 Join MAHPBA in Somerset, NJ on April 5 – April 6 for the next set of 2020 NFI Classes and Exams
Sponsored by Ray Murray, Inc.
Hearth Professionals in the State of New Jersey no longer have to fear the HVACR Licensing Law.
The newly passed NJ Master Hearth Specialist Licensing Law was put in place to empower NJ Hearth Professionals to continue to do the work that they have done for decades.
If you are a Hearth Professional in the state of New Jersey and are involved with Hearth Professional work, you MUST be licensed!
MAHPBA members are eligible for a discounted price on each exam. Contact Devon Possanza for more information.
Not a MAHPBA Member? Click here to learn more about the benefits of becoming a MAHPBA Member and to sign-up!
IN-PERSON reviews will take place on Sunday, April 5, with one time slot available for testing on Sunday evening.
All other testing will be offered on Monday, April 6.
All exams will be administered on a computer. A limited number of laptops will be available for testing; if possible, bring a laptop.
You cannot use a tablet or other mobile device; only laptops may be used for the test.
Sunday Reviews and Testing Times
7:30am-8:00am: Attendee check-in
8:00am-11:00am: Core Exam Review
11:00am-12:00pm: Lunch on your own/Additional check-in for afternoon fuel review attendees
12:00pm-3:00pm: Fuel Exam Reviews (Gas, Wood, Pellet)
4:00pm-6:00pm: Testing
Monday Testing Times
8:00am-10:00am
10:00am-12:00pm
12:00pm-2:00pm
2:00pm-4:00pm
Each NFI exam taken on a computer allows a 90 minute testing window.
Exam session times are available on a first-come, first-served basis
Contact Devon Possanza with your preferred time slot 
Meeting Location Details
The Clarion Hotel
60 Cottontail Lane
Somerset, NJ, 08873
Room reservations can be made by calling (732) 560-9880
Date/Time
Date(s) - Apr 5, 2020 - Apr 6, 2020
All Day
Location
The Clarion Hotel